sell medical supply equipment
How to Sell Medical Supply & Equipment Online: Business Guide
Leveraging 16-year experience in healthcare and ecommerce, Oceonic IT Solution Pvt LTd helps medical businesses gain online presence.
Medical Supply Market: Trend for Digitization
Over the last five years, the online medical supply sales industry has been steadily growing at an annualized rate of 17%. In 2020, the growth was further fueled by the global COVID-19 spread entailing an increased demand for medical supplies by both individuals and all kinds of healthcare institutions.
Online Launch Plan for Medical Business
A journey to digital sales will be unique for each medical company, still six milestones will form the basis of your business plan.
1
Research business licensing and regulations. Whether you are involved in the production or distribution of medical devices, use the FDA resource to understand the regulation rules.
2
Establish a supply system:
Shortlist vendors if you are new to medical supply market. Make sure to factor in the manufacturing capacity and resources of a vendor to support your planned sales volume.
Estimate an increase in supply resulting from online sales if your business is already present offline.
3
Launch an online store well-tailored to the specifics of your product vertical and target audience.
4
Plan an automated order management system to enable fast delivery critical for medical products.
5
Organize the shipment of large-size medical equipment.
6
Advertise your webstore to take hold on a competitive market.
Oceonic IT Solution Pvt Ltd can help with:
| | | |
| --- | --- | --- |
| Market entry consulting (market entry research, feasibility study). | Website design and development. | Automation of your business processes (supply chain, order distribution). |
Business Models to Employ
Pricing models for medtech manufacturers
Outcome guarantee model
Gain sharing model
Device-as-a-service model
Management service model
Manufacturers rebate the equipment cost if it didn't deliver on the intended clinical effect. The expected effect is prenegotiated.
Manufacturers sell the equipment to medical institutions at a lower cost but get a share of cost savings or revenue gained from the equipment use.
Manufacturers lease medical equipment to medical institutions. The latter adopt, but don't own, the required hardware, software and networking solutions.
Manufacturers provide customized solutions to improve the operational efficiency of a lab or a healthcare institution.
Ecommerce models for medtech manufacturers/sellers
B2C model
B2B model
B2M (business-to-many) model
Implies transactions between business entities (most likely retailers) and individual consumers. Eases the availability of medical equipment and supplies for people, including those in rural areas with limited access to healthcare.
E-solution must provide comprehensive product information and multi-channel customer support to guide consumers to an informed product choice.
Implies transactions between business entities: medtech manufacturers and medical institutions, pharmacies, and distributors/retailers. End customers are not involved. Focus on bulk sales. Facilitates the accessibility of product information and reduces transaction costs including sales communication costs.
E-solution must provide self-service for clients to research products and place orders; offer a possibility to negotiate client-specific deals and maintain flexible bulk pricing.
Most profitable
Targets a varied customer market – business entities and individual consumers. Focus on B2B customers prevails as they are seen as a more sustainable revenue source. Requires diversified marketing strategies to appeal to a multifaceted target audience.
E-solution must provide different registration roles and webstore views for business and individual users.
How to Build an E-Solution for Medical Supply & Equipment Business
We look at an e-solution for healthcare suppliers from two perspectives: as a customer-facing ecommerce website and a constituent of back-office operations. Hence, we describe the website features to have and show a map of technology integrations needed to set up business workflows.
Website features
Basic functionality
Medical supply & equipment catalog management
Configurable navigation, faceted product search.
Unlimited product attributes.
Simple, configurable and bundled products.
Pre-defined product templates with different attribute sets.
Recommendations of similar or supplement products.
Stock tracking.
Backorders and back-in-stock notifications.
360-degree product images for sophisticated medical devices.
AR-powered user manuals.
Typical ecommerce website structure
Homepage:

Page builder for content editing and publishing.

Catalog pages:

Online merchandizing tools.

Product details pages:

Multiple images per SKU.
Video format of product description.
Product rating and reviews.
Product reviews moderation.

Shopping cart:

Automated tax and shipping calculation.

Checkout:

Out-of-the-box and custom payment methods.
Order management
Order management dashboard to view, edit and fulfil orders.
Invoices, packing slips, and shipping labels available for printing.
Return management authorization.
Ecommerce website setup
HIPAA compliance.
Template-based or custom website design.
Multi-store setup to target different geographies or represent different brands.
Functionality specific to B2C targeting
Guided purchasing process
High-value product content: product descriptions, downloadable product specifications, video manuals, disposal instructions, etc.
Price comparison for similar products.
Pricing based on a customer group (e.g., the elderly).
Regulated sales
Prescription validation.
Health insurance submission.
Clear indication of non-refundable items.
Limitation of item quantity per user.
Transparent shipment tracking
Estimated delivery date.
Order tracking number available in a customer's profile.
Live updates and email notifications on order status.
Functionality specific to B2B targeting
Multi-role account management
Multiple roles reflecting a company's procurement hierarchy.
Possibility to create, edit and delete permissions for all orders (created by a user or subordinates).
Bulk order approval/rejection.
Shopping cart export for management approval.
Flexible price formation tools
Automated quantity-based discounts.
Customer segmentation.
Shared catalogs with segment-specific and individual pricing.
Negotiable price quotes.
Facilitated placement of bulk and complex orders
Multiple requisition lists of frequently bought items for quick reorder.
Order by SKU and product files importing.
Backorders for items out-of-stock or with insufficient stock availability.
Payment and order shipment
Company credit displaying the current outstanding balance, available credit, and the credit limit.
Split order shipment to multiple locations.
Key functionality to include in your e-medical solution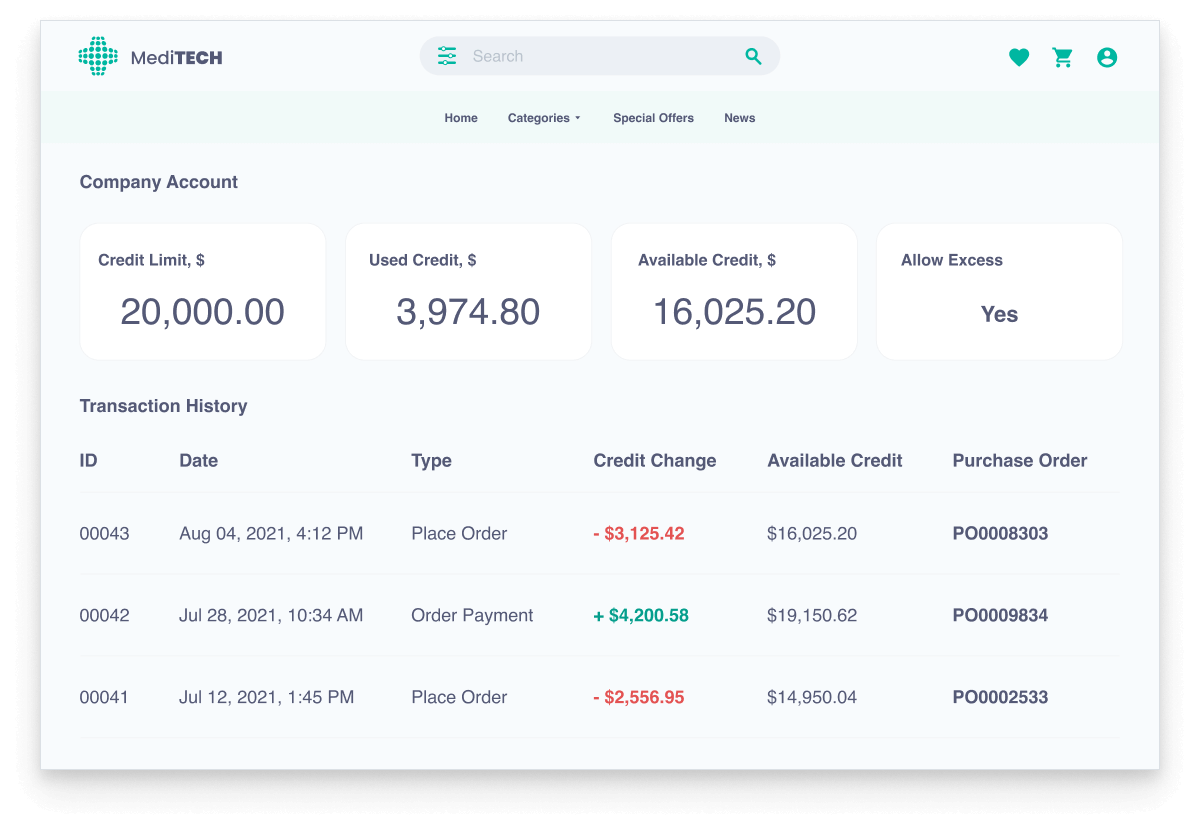 Credit buying enabled for B2B customers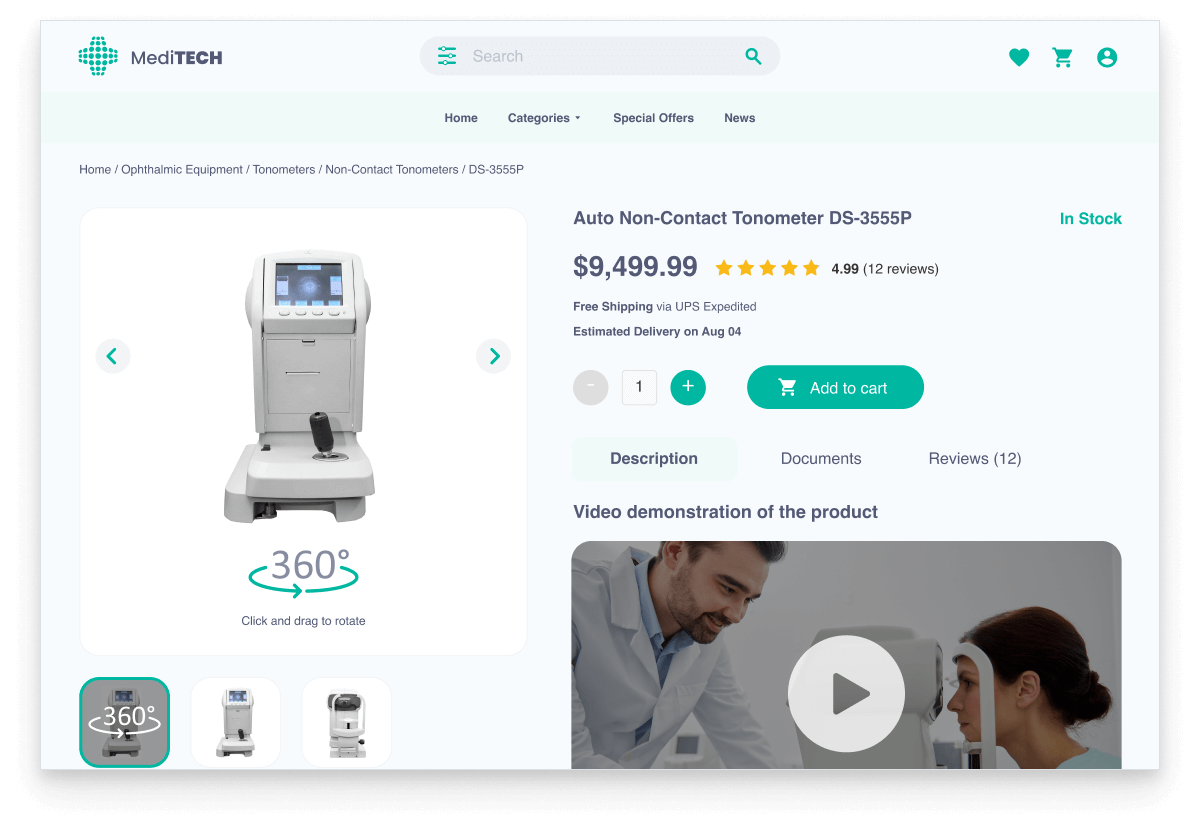 Different content formats on a product page building deep product knowledge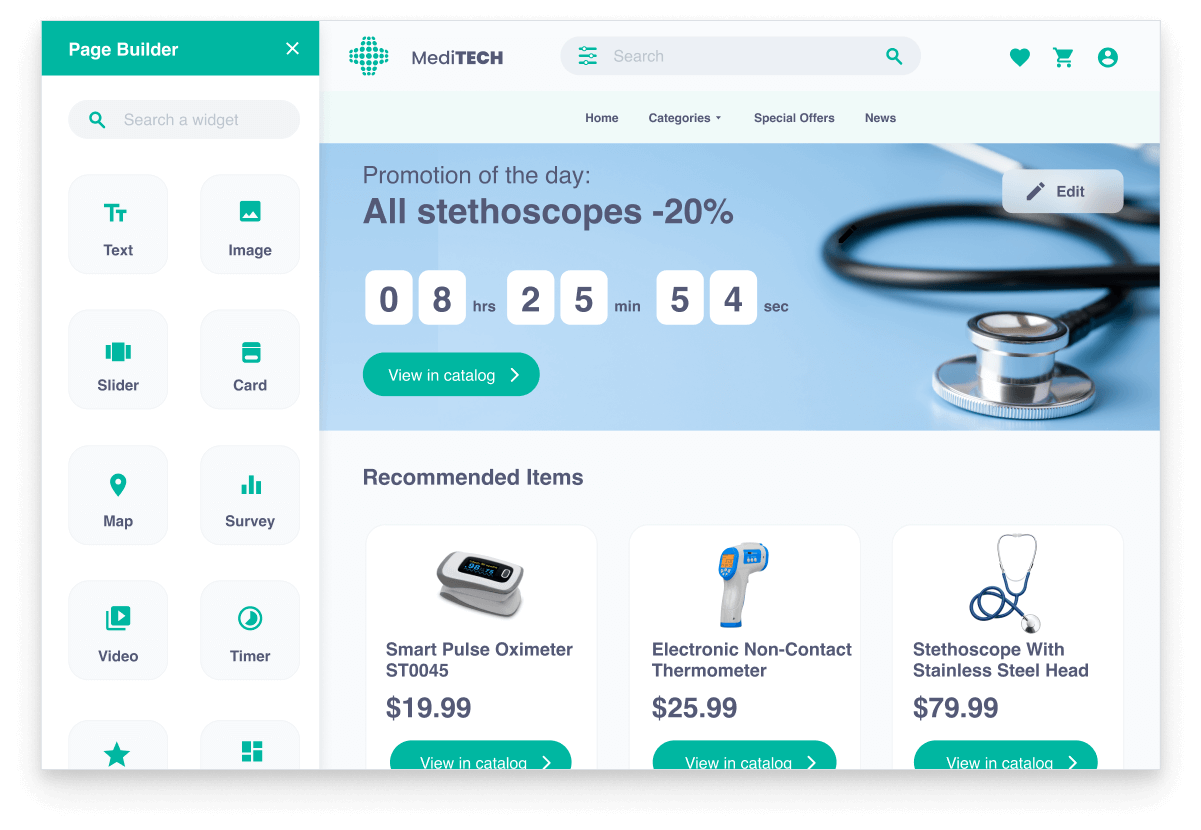 A convenient
Cotact for sell medical supply equipment